HOME
Sauntering, Our travels around the country
Maple Syrup Symposium (2007)
Terry's cross country bicycle trip
October 29, 2005
Drove back to Hazen, North Dakota to see my family again. When we got there we learned that there was a Rocky Mountain Oyster fry at Pick City. Pick City is a very small town of two bars and two gas stations and probably two different places to buy bait for fishing and about 150 permanent residents. Well, being Heather and I are not the one to pass up the opportunity to partake of some good old fashioned cooking we decided to back track the 25 miles to Pick City.

This is how the oysters start out.
The oysters are first sliced to about the size of potato chips but a little thicker.

The oysters are then placed into a top secret batter.
From there the oysters are placed in a top secret breading, that looks surprisingly like flour.
In the final step the oysters are deep fried to a crisp golden brown color.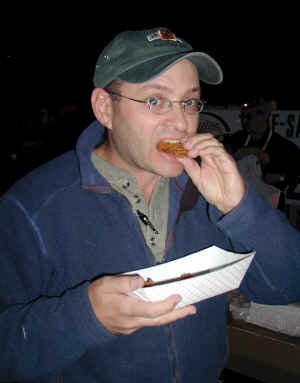 OCT . 2005
SU
MO
TU
WE
TH
FR
SA
1
2
3
4
5
6
7
8
9
10
11
12
13
14
15
16
17
18
19
20
21
22
23
24
25
26
27
28
29
30
31
NOV. 2005
SU
MO
TU
WE
TH
FR
SA
1
2
3
4
5
6
7
8
9
10
11
12
13
14
15
16
17
18
19
20
21
22
23
24
25
26
27
28
29
30
DEC. 2005
(no updates)